https://jatwork.org/wp-content/uploads/2018/03/Justice-at-Work-Logo-Color.png
0
0
Connie Rab
https://jatwork.org/wp-content/uploads/2018/03/Justice-at-Work-Logo-Color.png
Connie Rab
2021-04-08 13:06:19
2021-04-08 13:24:15
10ª Celebração Anual e Prêmios de Solidariedade (Virtual)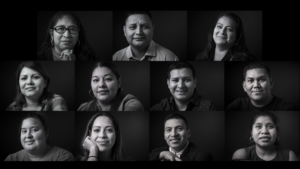 Pescando Justicia is a committee of workers organizing to end human rights abuses and win dignified working conditions in the seafood processing industry of Southern Massachusetts and Rhode Island. The project is supported by Centro Comunitario de Trabajadores (CCT) and Justice at Work.[1]
Stand with essential food processing workers! Donate today using the form below.
At the onset of the COVID-19 outbreak, many seafood processing workers were working shoulder-to-shoulder with few protections. Pescando Justicia members knew they needed to speak out to save lives, and began delivering and sending letters to over 30 companies calling for them to fix any dangerous conditions and protect public health. In response, some companies began providing masks, practicing social distancing, and even paying parental leave to temp workers. In early May the City of New Bedford also issued an emergency order that incorporated many of Pescando Justicia's recommendations, instructing all industrial facilities to take the temperature of all workers and visitors, provide workers with health and safety information in their native languages, and notify workers about paid sick and family leave benefits.
Pescando Justicia continues to fight to hold industry bosses accountable for respectful working conditions and for providing paid leave under new COVID-19 related laws. Please donate today to support their efforts. Proceeds will be split between CCT and Justice at Work. You can also email CCT at cctnbm@hotmail.com to sign up for Pescando Justicia updates and calls to action.
[1] Founded in the wake of Massachusetts' largest workplace immigration raid, CCT is a human rights organization at the heart of Southern Massachusetts' Mayan K'iche' and Central American immigrant communities. Justice at Work is a law-and-organizing nonprofit that has provided workers engaged with CCT with legal counsel and strategic advice since 2011.
https://jatwork.org/wp-content/uploads/2018/03/Justice-at-Work-Logo-Color.png
0
0
kparady@jatwork.org
https://jatwork.org/wp-content/uploads/2018/03/Justice-at-Work-Logo-Color.png
kparady@jatwork.org
2020-08-31 12:39:45
2020-09-29 09:03:54
Stand with Pescando Justicia: Raise Funds for Essential Worker Justice During COVID-19
Know Your Labor Rights During COVID-19
Are you afraid of going back to work? Does your employer refuse to pay you for work hours? Do you have questions about changes in the law related to COVID-19?
If your answer is "yes", you are invited to a talk: Know Your Labor Rights During COVID-19!
Join Justice at Work, a nonprofit legal services organization, for a workshop on the last Tuesday of each month through Zoom! Registration is a requirement and can be done at (781) 244-3357. Together, we will discuss our rights during this time and answer questions about our health, safety, wages, and more. FREE!
Contact José Palma at (781) 244-3357 or jpalma@jatwork.org for information on how to join.
https://jatwork.org/wp-content/uploads/2018/03/Justice-at-Work-Logo-Color.png
0
0
kparady@jatwork.org
https://jatwork.org/wp-content/uploads/2018/03/Justice-at-Work-Logo-Color.png
kparady@jatwork.org
2019-12-31 08:00:52
2020-06-16 10:43:38
Know Your Labor Rights During COVID-19